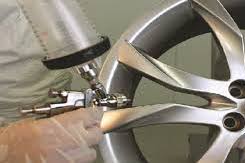 Wheel Repair shops can range in size from 1 or 2-person garage-based or mobile services to large multi-site franchise and remanufacturing facilities.  We know this because we have clients across the spectrum. While the very large operators have some unique challenges that we discuss elsewhere, the larger number of businesses offering wheel repair today share common business management issues, and our software offers some great solutions. Below are 8 examples of how AMT's ReconPro™ mobile software helps turn your challenges into accomplishments:
| | |
| --- | --- |
| Primary Pain Point | AMT Product Feature That Solves It |
| | Easy-to-use digital estimates and electronic invoicing (No more handwritten invoices). |
| Documenting which vehicle you are repairing | VIN scanning will scan and decode Year, Make, Model for each vehicle, and carry that information through to estimates, work orders, and invoices. |
| Need to limit liability and "That wasn't there before" | Organized mobile app documentation can include photos or videos attached to every job to verify vehicle condition. |
| | Electronic approvals via quick link or signature on your mobile screen. |
| | Electronic PO's, and/or credit card processing from your device. |
| Getting your invoices into your accounting systems | Accounting integration with QuickBooks and other popular programs. No need to type in the information again. |
| Taking time to crunch the numbers on employee pay | Payroll & Employee Timesheets keep track of everyone and every penny, and can even calculate shared jobs and commission splits.  |
| Getting an invoice copy to your customer, or finding your own copy. | Digital records are always organized. Print, Fax, or Email your invoice from your device or your back office computer. |
Successful business owners understand that efficiency is key to maximum growth and maximum profits. AMT software helps you to stay efficient on your administrative tasks so you can spend more time growing the business. For more information or a demo of our flagship ReconPro software, click here.