Elite Rim Repair Deploys ReconPro to Manage Its Massive Wheel Repair and Reman Operations
ReconPro's workflow and process management helps maintain efficiencies for high-volume wheel repair operations
PRESS RELEASE
UPDATED: OCT 24, 2018 05:12 PDT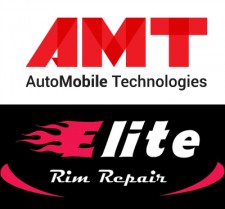 NEWPORT BEACH, Calif., October 24, 2018 (Newswire.com) –AutoMobile Technologies, Inc., the industry leader in auto reconditioning software, has been engaged to provide workflow automation software to Elite Rim Repair, the largest volume wheel repair and remanufacturing facility in the world. AMT's ReconPro software has been implemented in Elite's Plainview, NY, facility to improve mobile and back-office billing, inventory control, scheduling, and efficiency in bringing wheels through their extensive and meticulous processes.
"With the volume of wheels we process, we knew we wanted a system that could track all the moving parts of the operation," said Herman Mansbart, VP Northeast Operations at Elite Rim Repair. "The team at AMT stepped up to provide a software solution that lets us know where each wheel is in the process, manages service requests and scheduling, enforces quality control, and ensures the right wheels get back to the right client and vehicle. Our first day with the new software didn't cause a huge reduction in our daily volume, despite the unfamiliar process. Once everyone gets used to the new process, I know we'll be able to grow both in quantity and quality."
AMT's ReconPro provides comprehensive management of the reconditioning process and includes both mobile and back-office modules to ensure everyone in the cycle is informed about where and when work is required. This keeps work moving at optimal speed and results in faster turn-around with fewer errors and full visibility of the work-in-hand.
The adoption of ReconPro will allow Elite Rim Repair better command and control of the recon process with full visibility as each wheel progresses through the process, enabling them to measure and optimize results.
Other notable benefits of ReconPro include:
Multiple access roles – Team and area management functions allow or restrict access rights to view or modify information.
Customizable pricing – customer discounts can be set and managed by the appropriate role.
Parts and Labor Hours Management – The system provides access to OEM part numbers, mechanical labor hours, and parts ordering feature will soon be added.
Billing Management and Payment – The system manages all billing, both in the field via mobile devices, and in the back-office, and administers hours and pay for each job, including commissions and splits.
Real-time Reporting – Elite will know the status and stage of every wheel in-process, and can quickly identify bottlenecks.
"Elite has one of the most robust reconditioning operations we've ever seen. With this kind of volume, making sure workflows are efficient is crucial. We are proud to provide the software solution that enhances that efficiency." said Jerome Hall, Chief Product Officer for AutoMobile Technologies, Inc. He added, "Wheel remanufacturing has some unique challenges, and we have been able to create a custom solution to address them. The team at Elite, and their sister company, Alloy Wheel Repair Specialists, are terrific partners and have been incredibly helpful throughout this deployment. We look forward to a long and successful relationship."
AutoMobile Technologies provides software applications to solve workflow and back-office problems for auto dealerships and reconditioning operations across North America.
For more information, please visit https://amt.company.
About AutoMobile Technologies
Since 2006, AMT has been building software applications to help companies in the automotive industry replace paperwork, enforce processes, and gain instant visibility to business operations, regardless of team size and geographic distribution. Our mission is to distribute easy to use, affordable solutions to help dealerships, PDR and SMART Repair technicians, detailers, and reconditioning companies improve customer service, make more money, and eliminate back-office inefficiencies.
About Elite Rim Repair
Elite Rim Repair offers top quality wheel repair and refinishing with a next day turnaround with in-house wheel refinishing, painting, powder coating, PVD Chrome, and Black Chrome, and Polishing. Elite currently refinishes hundreds of wheels per day with all going through a 7-point repair and inspection process so you can be assured your wheel will be reconditioned to like-new specifications. Elite has all of the top of the line, cutting-edge equipment which allows us to provide the services quickly and efficiently with exceptional quality.
Media Contacts:
Elite Rim Repair
info@eliterimrepair.com
Ted Gaines
AutoMobile Technologies, Inc.
gaines@automobiletechnologies.com