What if your company could eliminate the time-consuming paperwork with cost-effective, mobile device-based fleet software? What if you could eliminate bottlenecks that keep you from turning over your fleet as efficiently as possible? AMT saves you time and money with software to gather and manage vehicle information, document vehicle condition, manage repairs, enforce process, and eliminate paper altogether. Want to spend less time filing papers in your back office? AMT's InspectionNotes and ReconMonitor will do the work for you.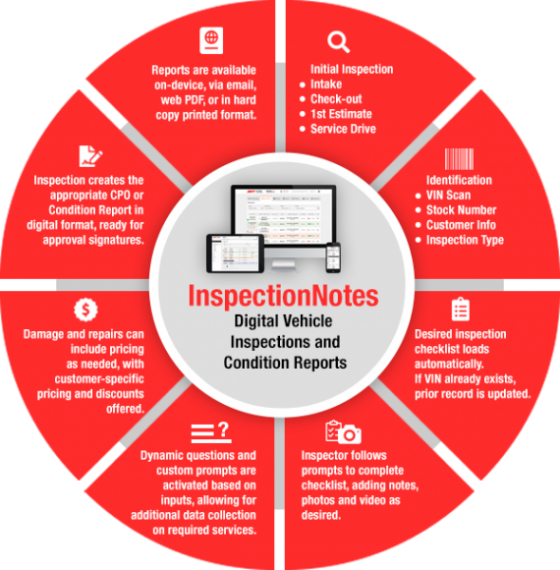 InspectionNotes

: Vehicle Check-in /Check-out and Condition Reports
Use our inspection management software, InspectionNotes, on your mobile device. Start with an accurate VIN scan to identify the vehicle. Digital inspection question forms are customizable to your process, and photos and videos can be attached to ensure complete and accurate information. Your comprehensive inspection, with photo documentation, creates a Vehicle Condition Report to print or share digitally, and that settles any issues about prior damage or required repairs.
Learn More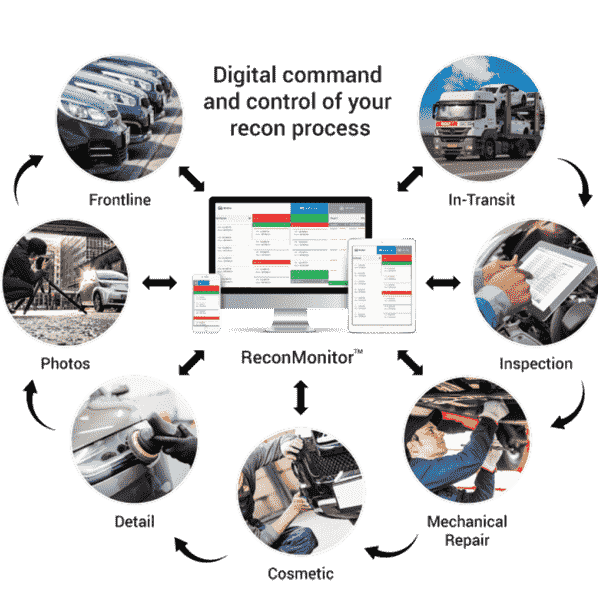 Complete Visibility and Control Through Any Repairs with

ReconMonitor
InspectionNotes is a component of ReconMonitor, AMT's complete repair and reconditioning process management software.  The initial inspection starts the repair documentation, easily translating to estimates, work orders, vendor and employee assignment and scheduling, authorizations, repair documentation, and invoices. No paperwork. No missing information. No hassles in getting your vehicles back in service in the shortest possible time.
Learn More
Maximize Your Efficiency and Minimize Downtime
Fleet managers, drivers, mechanics, parts managers, supervisors and more can all work together in one easy-to-use system.
Avoid Vehicle Inspection Headaches
Relieve drivers from the burden of paper forms and improve inspection quality, all from an existing smartphone or tablet.
Conduct inspections, submit photos and add comments all from your mobile device. With less to enter and data automatically in cloud portal, you'll save loads of time over traditional paper processes without costly added hardware.
Schedule vehicles for inspections and alert drivers when inspections are due. Inspection history is accessible on mobile device or cloud portal anytime, ensuring drivers can produce necessary reports for law enforcement.
Address Issues Immediately
Customize notifications and take action instantly when inspections criteria fail. Instead of waiting for paper forms to cross their desks, administrators are alerted to issues promptly and your vehicles can get back on the road faster.
Essential Tools

VIN Scanning and decoding, Customer Record Management, Photo and Video Inspections that attach to work orders

Custom Print & Email Templates

We create custom forms, communication templates, invoices, work orders to suit your business process and your brand

Accounting and Management Systems Integrations

Software integrations with many accounting packages such as QuickBooks, Sage, etc., as well as Dealer and Bodyshop Management Systems

Power Forms Customization

Your inspection forms and other documents are dynamic, and can trigger additional steps, alerts, and processes to ensure complete information

Service Request & Scheduling

Allow your customers and suppliers to submit advance work requests, and schedule all maintenance digitally
Ask yourself the following:
Can you retrieve all of the information for your vehicles with the push of a button?

Can your smartphone allow you to manage your fleet maintenance schedules?

Do you have the ability to track and print vehicle condition reports from your smartphone?
If not, that can change with AMT's fleet software. The ability to digitize your company enables your business to scale in size, and ensure that growth with be profitable.