Complete Reconditioning Management System
Repair360 manages the complex administrative and workflow processes needed to move your vehicles through your fixed reconditioning operation. It relieves the need to use different tools for parts, vehicle location, workflow, time tracking, inspections, vendor management, work assignments, and more.

This powerful suite of tools provides a collaborative platform where everyone stays informed and empowered to do their part and keep cars moving through reconditioning at full speed.
What is Repair360 and What Does it Do?
Repair360 solves a serious problem for the automotive reconditioning industry. Most companies are wasting margin because they can't monitor and control their complex recon operations.
This suite of tools is custom designed for automotive reconditioning operations that are: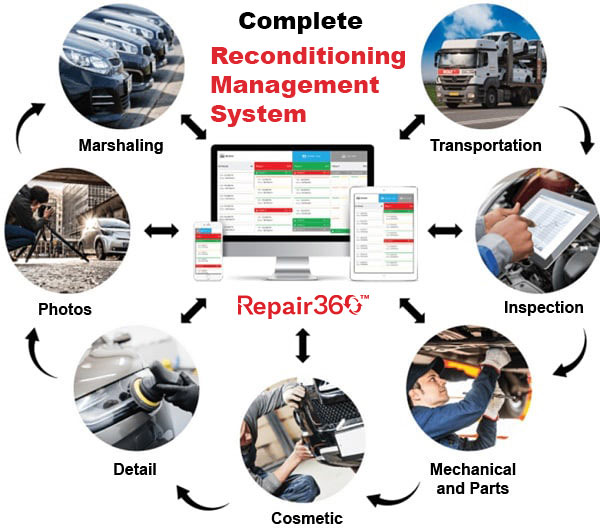 A VIN scan on your mobile device returns all the necessary information to uniquely identify the vehicle – Year, Make, Model, Color, Parts Catalogs, OEM Paint Codes, and more. From there, detailed inspections follow prompts within the app to ensure compliance. You can perform multiple inspections per vehicle – mechanical, cosmetic, quality assurance, etc.

Photos and notes attach to inspections at the line-item level, with one-touch bulk or line-item approvals to create Repair Orders. Inspections follow your process with the ability to dynamically change the flow and requirements based on reported elements. The app is self-contained, so it works with or without Internet access, and can print to most printers, even without Internet connection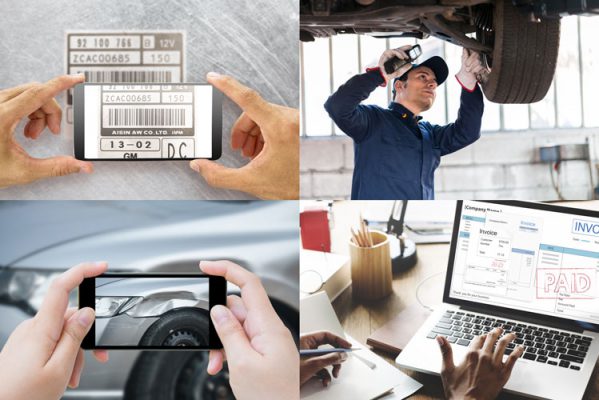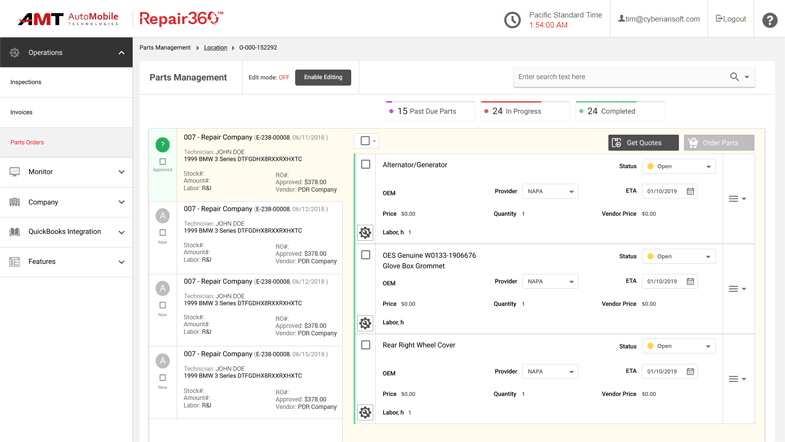 Parts Ordering and Management
The Parts department is a major stakeholder in your recon operation, and that connection is strengthened by Repair360's Parts Ordering and Management capabilities.

The Parts department's access to the RMS lets them know the required parts and order as soon as the need is identified. Parts can be ordered directly within the system from a variety of suppliers, including internal inventory.

This enables comparative lookups for parts – OEM vs. aftermarket, salvage, etc., so you can secure the right part for each instance. The status of each part required is tied to the RO for that vehicle, so there's no confusion about the repair.
Vendor and Employee Management
With Repair360's vendor and employee management features, including time tracking, you have instant visibility into team and individual performance.

Vendor management is a big part of what you do. Repair360 tracks vendor productivity so you know which vendors are your most efficient. This can also help you understand and select payment options that work best for your operation. Repair360 generates vendor invoices only after all work is completed and approved. This assures that you pay only for work that is actually completed.

Repair360 helps you improve your operation with performance visibility of each repair phase and each resource.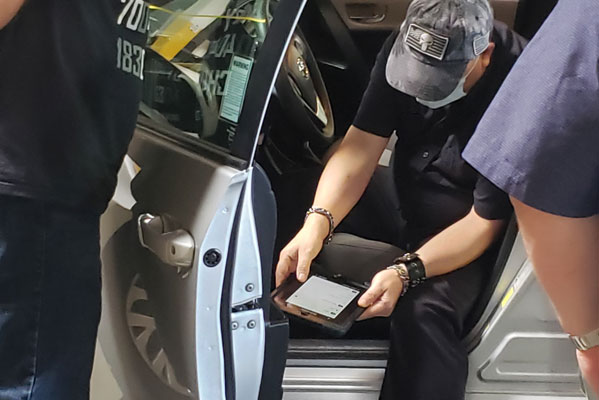 GET COMPLETE COMMAND AND CONTROL OF YOUR RECON OPERATION WITH REPAIR360