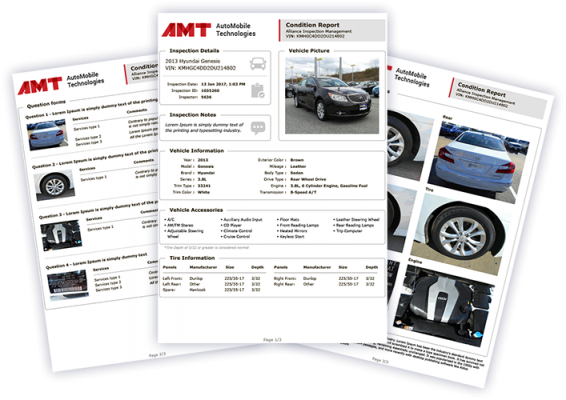 Knowledge is power, and you can't know what you don't know. These are two undisputed truths, and they are all you need to understand the importance of Vehicle Condition Reports.
Think about your own business. Whether you repair vehicles, sell them, lease them, or all of the above, do you have easy and reliable access to the condition of every vehicle your business has touched? How complete are those reports? How legible are they? How consistent is the quality and completeness of your vehicle condition reports from one to the next? If you didn't answer "100%" to each of those questions, then you should consider vehicle condition report software included with our mobile software solutions InspectionNotes, Repair360, and ReconMonitor.
How can improved condition reporting make a difference for your business? A short list includes:
Perform multiple inspections including photos, videos, and notes to document prior damage and defend against false claims.
Customizable digital forms can trigger additional steps or activities based on question responses. If the vehicle arrives for one service, but the inspection reveals other issues, you can automatically create an estimate for the additional repair to present for customer approval.
Forms can enforce process to ensure all steps are completed in the most efficient order, review data as it is entered, and trigger next process steps and notifications.
Updates to vehicle condition are fast and easy. A VIN scan brings up the latest condition report for editing and all changes are logged, so history audits are a breeze.
Any conditions indicated on an inspection can trigger additional estimates or work orders for on-device or quick-link signature approvals.
Digital reports are formatted to suit your business, with your brand, and always presentable in digital or printed formats.
Post the report on your website to assure the buyer of the vehicle condition.
Print the report to keep with the vehicle jacket and use it as a sales tool.
Your business operations and customer satisfaction will benefit from quality vehicle condition reports. Contact us for more information and a free demonstration of our powerful vehicle condition report app.