Chasing Hail? Don't leave town without these must-have PDR tools
Business Management Software for This Season and Beyond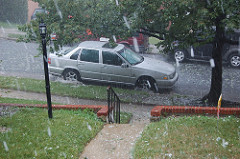 For technicians fixing hail damage on the road, the season is in full swing. The season has shaped up to be an epic year for hail in many regions. This could be a big year even for retail PDR and SMART repair shops who don't hit the road.
Whether you are on the road or not, take a few moments to consider a few tools you may have heard about but haven't put into practice yet in your business. I'm talking about mobile estimating and invoicing tools such as our two mobile apps, Repair360 and ReconPro.
Repair360 – Mobile Estimate and Invoicing Software
Designed to get any auto reconditioning company or PDR technician up and running with basic
mobile estimates, work orders, and invoicing designed to put an end to wasted time spent on administrative paperwork tasks that are required in running your business. Best of all, this product is completely free for single users and available on iOS from the Apple app store or Android from the Google Play store.
What is Repair360 and what does it do?
An easy-to-use phone app, with Repair360, you can log in cars as you work on them, take pre-inspection notes and photos, create and email estimates, work orders, invoices and more all from your preferred mobile device.
Have more than one technician working for you? An easy upgrade to our paid version Repair360, which grants you the ability to manage multiple technicians and integrate with your accounting system, too.
Repair360 Product Features:
VIN Scanning and Decoding

Customer Record Management

Photo and Video Inspections that attach to work orders at the line-item level, on-device Approvals

Invoicing, and Back Office systems

Customer records, Invoicing, and payments all accessed from the software.

Software integration with the popular QuickBooks Online accounting package available

Payment Processing integration
Note: Integrations with additional accounting systems from QuickBooks, Sage, etc., as well as Dealer and Bodyshop Management Systems are available with ReconPro.
The app is self-contained, so it works with or without Internet access and can print to most printers, even without an Internet connection.
ReconPro

– Advanced Business Software for Recon Professionals
Are you running a larger operation than Repair360 can handle? Step up to ReconPro, our mobile management tool purpose-built for Auto Recon Professionals.
With a few clicks from any handheld device, you can document prior damage, create invoices, get PO's, and streamline back-office operations like payroll and accounting, allowing you to spend less time on managing the business, and more time working on the business.
ReconPro Product Features
Vin Decoder – Includes trim, paint code lookup, vehicle recalls

R&I Labor Times for fully informed estimates

Advanced Commissions – Calculate Flat Rate, % Gross / Net, Tired Commissions, Splits

Duplicate Vin Detection to avoid duplicate records

Full Service Menu Control -Create a service menu specific to each account

Customer Specific Pricing – Set, adjust, and control even the most complex pricing models

Service Requests – Dispatch & Scheduling

Estimate Approvals – On device, via web or quick link

Integrations – Connect directly to many popular dealer and shop management systems, including CDK,  Mitchell, Audatex, and CCC

Team Collaboration – Share Inspections, Work orders, or Invoices across teams

Configurable Print Templates – Your custom business identity and layouts in hard copy

Configurable Email Templates – Your custom branding and layouts in emails

Real-time Reporting – Data at your fingertips lets you know your numbers anytime

Full visibility and control

Fully mobile – on your iOS or Android devices

Step-by-step automation

The most detailed reports on the market

Easy integration with QuickBooks

No need for IT staff to install or maintain
Regardless of whether you are a one-man operation, or responsible for teams of PDR techs, isn't it time you stepped into the world of mobile management and invoicing? Schedule a demo with AutoMobile Technologies today!