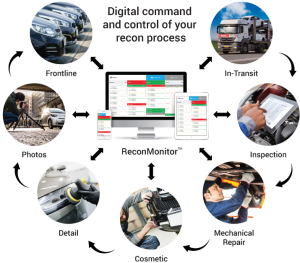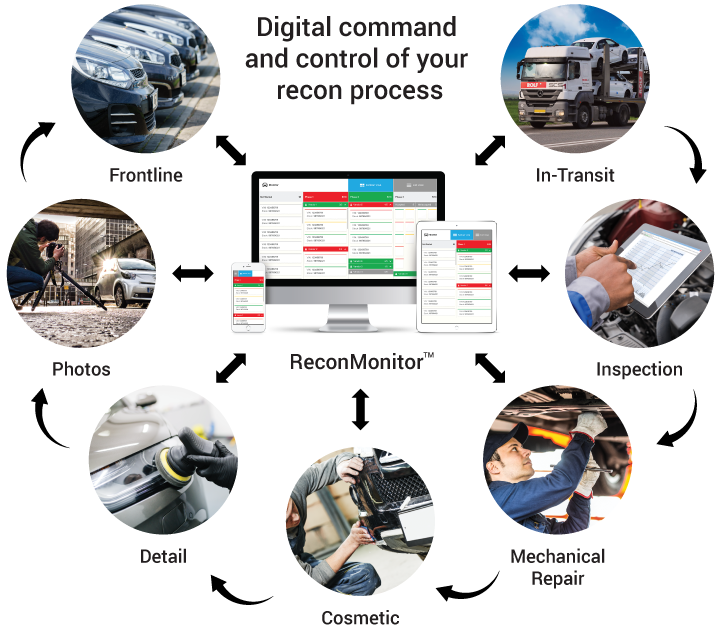 For those who manage multiple vehicles through a reconditioning process, like dealerships, fleet managers, auto auctions, and rental companies, employing multiple vendors and employees on top of the administrative duties of running the business can be difficult to manage. There are a lot of steps to getting a vehicle through the make-ready process. To help ease the pains of so many moving targets, AMT developed ReconMonitor™, smart workflow management software for auto reconditioning.
This software is specifically designed to assist in your execution of auto remarketing at maximum speed and efficiency. ReconMonitor improves the ready-for-sale process by giving the user visibility into each of the many steps in the recon process. It also provides a detailed look at how each of the steps and technicians is doing from an efficiency perspective. Let's look at an example:
Let's say your dealership acquires a car at auction. The initial inspection indicates that the vehicle needs some mechanical work, PDR, a bumper replacement, paint touch-ups, and of course, photography. Then the next day you acquire 5 to 10 cars through trade-in (wouldn't that be great), each with its own list of needed repairs. For the recon director or manager within your operation, it can be dizzying tracking numerous vehicles at different stages of the recon process. If your facility employs its own mechanical repair resources in addition to outside vendors for specialties like PDR and other sublet work, keeping track of everything can be stressful and things can slip through the cracks. You not only have administrative tasks to complete but have to manage multiple workflows and stations to make sure the right employees and vendors are matched to the right jobs for the most efficient turn-around.
Capacity management and knowing where each vehicle is in the process becomes complex and the entire process can become bogged down from a single inefficient step. Vendor management in ReconMonitor means the ability to plan, schedule, and evaluate vendors for improved efficiency. For the example above, it would make no sense for the dealer to have the photographer come on a day when a car wasn't cosmetically ready for its close-up. Knowing where each vehicle sits in the process, and planned time until it is ready for the next stage is a critical ability that will set your business processes apart from any other dealer without this type of visibility and control.
With ReconMonitor, you can watch your vendors and employees complete the designed order of tasks in real time, contact them if needed, make changes where you see fit, and analyze the quality of work. ReconMonitor will also automatically create and distribute vendor work orders, and generate vendor invoices when the completed work is approved, giving you full control.
Dealerships can lose around $35-$50 every day a car is stuck in the reconditioning process. ReconMonitor increases the visibility and control you have over the end-to-end process of reconditioning any vehicle. It's a great way to get rid of disorganized paper orders and antiquated whiteboards and keep everything in one centralized management solution. With ReconMonitor, your reconditioning process is transformed with vehicles efficiently made frontline-ready in record time.