EchoPark Automotive Selects AMT Software to Manage Its Massive Reconditioning Operations
ReconMonitor's workflow and process management helps maintain efficiencies for high-volume reconditioning
PRESS RELEASE
UPDATED: OCT 25, 2018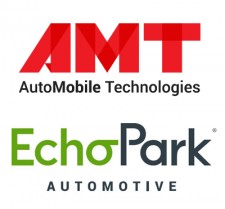 NEWPORT BEACH, Calif. and PLAINVIEW, N.Y., October 25, 2018 (Newswire.com) –  AutoMobile Technologies, Inc., the industry leader in auto reconditioning software, has been engaged to provide workflow automation software to EchoPark Automotive, pioneers in the evolution of used car buying. AMT's ReconPro and ReconMonitor software has been implemented in EchoPark's reconditioning facilities including Dallas, Denver, and Charlotte, to improve visibility and efficiency in bringing cars through their extensive and meticulous process.
"AMT software provides EchoPark Automotive a scalable tool with a common language platform," said Tim Keen, Executive Vice President of Operations. "It increases our efficiency, saves costs and cycle times so we can deliver consistent high-quality vehicles to our customers."
AMT's ReconMonitor provides end-to-end visibility of the vehicle reconditioning process from acquisition through all steps of the recon process, and helps identify process or vendor inefficiencies that increase cycle time. The software includes both mobile and back-office modules to ensure everyone in the reconditioning cycle is informed about where and when work is required. This keeps cars moving at optimal speed and results in fewer days to frontline status.
The adoption of ReconMonitor will allow EchoPark better command and control of the recon process with full visibility as each vehicle progresses toward frontline readiness, enabling them to measure and reduce cycle time for optimal results.
Other notable dealer benefits of ReconMonitor include:
Mechanical and Cosmetic Inspections – Multiple inspections per vehicle, including EchoPark's signature 190-point Inspection and Vehicle Condition Reports.
Parts and Labor Hours Management – The system provides access to OEM part numbers, mechanical labor hours, and a parts ordering feature will soon be added.
Vendor Management and Payment – The system manages all employee and vendor workloads, and administers hours and pay for each repair.
Real-time Reporting – EchoPark knows the status and stage of every vehicle in process, and can quickly identify bottlenecks.
"EchoPark has one of the most robust reconditioning operations we've ever seen, providing great value to customers across their inventory of nearly-new vehicles. We are proud to enhance that value with ReconMonitor's efficient workflow management capabilities in vehicle recon," said Eric Meahan, EVP of Operations for AutoMobile Technologies, Inc. He added, "Dealers lose an average of $35-50 per day that cars spend undergoing reconditioning. Our partnership will allow EchoPark to reduce costly delays and make better vehicle recon decisions early in the cycle. That results in better inventory availability for their customers and ultimately, increased margins on vehicles sold."
AutoMobile Technologies provides software applications to solve workflow and back-office problems for dealers and reconditioning operations across North America.
For more information, please visit: https://amt.company/dealership-software-and-operations.
About AutoMobile Technologies
Since 2006, AMT has been building software applications to help companies in the automotive industry replace paperwork, enforce processes, and gain instant visibility to business operations, regardless of team size and geographic distribution. Our mission is to distribute easy to use, affordable solutions to help dealerships, PDR and SMART Repair technicians, detailers, and reconditioning companies improve customer service, make more money, and eliminate back-office inefficiencies.
About EchoPark Automotive
Launched in the fall of 2014, EchoPark Automotive has been well-received for a revolutionary used car customer experience in Denver, Colorado, Dallas and San Antonio, Texas and Charlotte, North Carolina. Each retail space mirrors a welcoming, enjoyable atmosphere with an open concept space and functional zones tailored to specific activities. Interactive research areas, comfortable lounge spaces and personalized vehicle delivery empower guests of EchoPark to shop the way they want and at their desired pace. The full sensory environment ties the brand's digital and physical assets into a seamless, flexible and compelling shopping experience. Even the internal mechanic shop is fully visible to guests showcasing the care that is taken to recondition vehicles. In short, EchoPark Automotive is about building long-term relationships with our guests and the community.
Please visit EchoPark.com to learn more.
Media Contacts:
Marti Eulberg
EchoPark Automotive
980-875-0964
marti.eulberg@sonicautomotive.com
Ted Gaines
AutoMobile Technologies, Inc.
949-614-0799 x708
gaines@automobiletechnologies.com