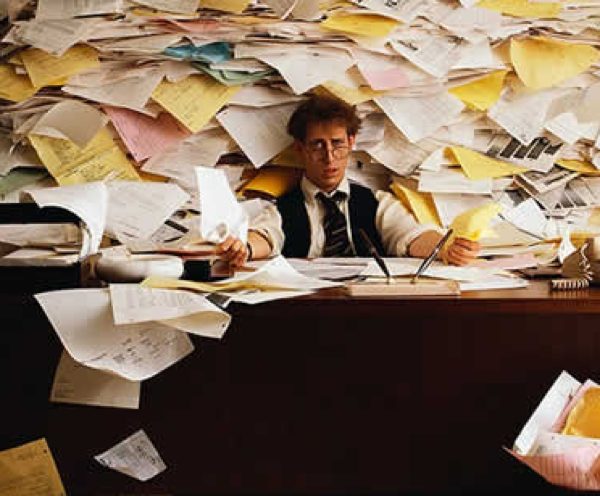 If you're staring at a desk surrounded by sticky notes and stacks of papers, wake up! It's 2019! It's no wonder you're backlogged when you can't even find the invoice for yesterday's customer.
But somehow even with all the hours spent on invoices and paperwork after a long workday, many repair business owners and technicians take more comfort in this chaos rather than adopting a new method. The problem with that comfort zone is it's virtually impossible nowadays to keep track of the repairs, check-in with your customers, and keep the business coming with increasing revenues. It's frankly, well, not wise for these SMART repair shops to be using out of date methods for managing a business when even the way a technician approaches a car repair has gone through significant changes over the past few years.
Perhaps the fear of change is because many of these programs have often been designed without the mindset of the typical auto repair shop owner and its technicians. They're often very complex and require specific training.
This is why AMT created a simple yet powerful software solution that eliminates the paperwork and helps make you more profitable. The software comes with all the features you need to be in command and control of your work, from PDR and hail damage estimating to an invoicing system that seamlessly integrates with your accounting software.
When it comes to reconditioning, the top 4 things that a thriving repair operation needs to keep track of are:
Estimating the cost of the service

Managing the front and back-end operations, including overseeing your technicians and making sure everything is running on schedule

Billing and invoicing

Serving your customers well = generating more profit
SMART Repair is all about doing the most effective job in the least amount of time to keep a steady money flow. Sticky notes and dry-erase boards may have worked before. But why be running your shop with limits when you can be limitless? AMT's Automotive Repair Software manages over $139 Million in monthly repairs and estimates across over 23,000 repairs daily!
Go ahead and schedule your demo today!