Nearly half of new vehicles sold are SUVs
Growth continues but seems to be slowing
Dealers are running out of space as vehicles sit longer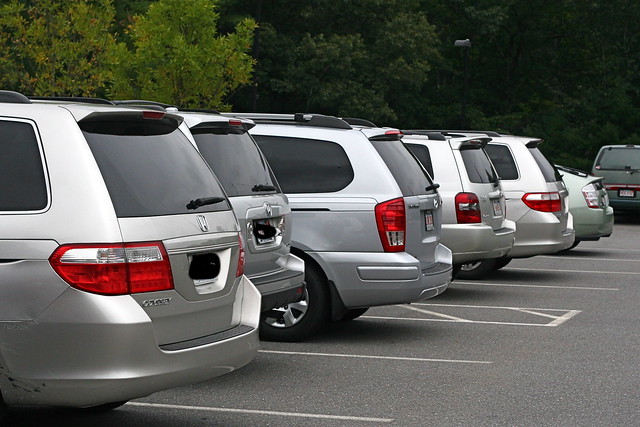 Over the past few years, SUVs have been an increasingly popular choice among consumers. Just this year, the sales of SUVs and crossovers increased by 1.6% in the first half of 2019. They also make up over 47% of the new-vehicle market sales. Car manufacturers can tell this is a popular choice among consumers, which is why they are releasing more models of different sizes and price ranges. It sounds ideal in the world of vehicle sales, but there's also another side that is adding stress to dealers across the country.
There is a big problem with the increasing distribution of these sport-utility vehicles. Dealerships are running out of space for these vehicles, and as a result, sales are dipping. In fact, according to the Wall Street Journal, "…companies are resorting to more sales promotions to keep inventory from piling up…And yet, automakers are getting ready to roll out even more sport-utility offerings in the next few years, further packing U.S. showrooms." 
Take a look at this graph showing growth in U.S. SUV sales from 2015 to now. While growth continues, it's less than half of what it was last year:
Sure, this is a good thing for customers since they'll have a hidden selection of vehicles to choose from and better deals. There are currently 96 crossover and sport-utility models on dealership lots as of this year, which is a significant increase from 70 back in 2014. A Bank of America report recently stated, "that figure is expected to rise to 149" by the year 2023.
As mentioned above, with the continued rollout of these vehicles, it's taking significantly longer for dealers to sell the cars. One thing is to give consumers several different choices. But it's an entirely different thing when they have too many to choose from that they end up leaving the dealership without a purchase. According to data collected by edmunds.com, SUVs, and crossovers are sitting on the lot longer and longer each year. In 2015, the average amount of days these new vehicles were on the lot was 51. Last year, it increased to 63 days, and as of May, the average vehicle sitting for 2019 is 71 days. That is nearly 2 and a half months. Dealerships don't need any more cars filling these lots. They're past vacancy and beyond capacity.
Car manufacturers don't seem to be too worried, as they feel this is simply the future of the car buying process. Although sale rates may be decreasing, there's still a demand for SUVs and crossovers. Bill Fay, Senior V.P for Toyota North America, even stated, "our crystal ball has this continuing."
The only thing dealers really can do is keep the promotions rolling, and the sales will follow. After all, SUVs are the most popular choice for consumers purchasing a new vehicle. From the looks of it, conventional sedans are steadily decreasing while SUVs have significantly increased over the past 4 years. Check out the graph below and prepare your dealership for the continuation. It's only going up from here on forward.