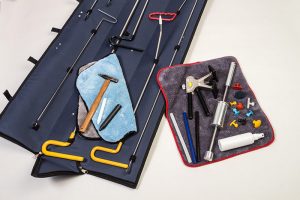 While your front-end operations are where the money is made in PDR, your back-office can make or break how efficient your business runs. Every front-end task depends on the back-office running quickly and efficiently. So, as you may know, if there are any backups or delays in back-office paperwork and processing, your front-end operation will struggle as a result.
Fortunately, the auto industry is always evolving to increase efficiency, reduce cycle time, and increase throughput. So, with a rapidly changing market, the most successful PDR businesses have implemented PDR software into their entire operations, back-office included.
Here are 4 ways back-office PDR software can have a positive impact on your operations:
It Can Handle Financial Work
PDR software can track anything from invoices, salaries, commissions, hourly payments, estimates, billing, and much more, and communicate with your accounting program for error-free entries. By streamlining all of your financial work, you can free up time and effort towards other tasks that will earn your PDR business money.
It Can Cover Human Resource Tasks
Handling timekeeping and employee compliance can be incredibly time-consuming. With PDR software, you can simplify processes and streamline your entire back-office.
You Can Automate Repair Workflow Tasks
With good PDR software, you can completely automate both back-office and front-end operations. You can set up how you want work to be completed, the order it should be completed, and track who's working on a job and where. By simplifying communication and making every task have clear-cut directions and order to things, you'll save plenty on time and money.
It Can Increase Your Productivity
Because all of your business information is saved natively and on a cloud server, you can access your all information on the fly from your desktop or mobile device. You won't have to sift through paperwork or wait for approvals. You'll be able to track all work and spot any delays in real-time to keep things moving. No more sticky notes or paper files that can get lost and create a backup. Everything is available at the click of a button, and all of your departments can access the information they need, instantly.
AutoMobile Technologies Can Help
AMT offers software solutions designed to make your PDR business more efficient, provide you with better visibility, and give you peace of mind knowing that your back-office is always up-to-date.
ReconPro is the industry's most versatile and powerful software solution built for auto recon professionals. With essential tools for performing PDR estimates, hail and insurance matrixes, parts management, paint code lookups, integrations with body shop crash systems and accounting systems, too. ReconPro manages the details of running your business so you can focus on growing your business.