OEMs respond to replacement auto parts supply chain questions following the virus peak.
Each day we wake up to a changing situation. What is breaking news this morning is old news by the end of the day. Old news like all the auto factories shutting down seems like really old news even though it just happened last week. What is still new, however, is the conjecture about what the post-outbreak will hold for everybody in every industry. This is especially true for the auto industry and the many industry verticals that support it, such as parts jobbers and the collision industry.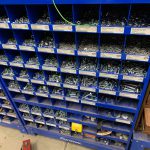 Despite factory shutdowns amid national COVID-19 coronavirus concerns, multiple OEMs continue to assure the industry that replacement parts for body shops aren't significantly affected. But we must understand that the situation could evolve rapidly and today's hope could become today's bad news.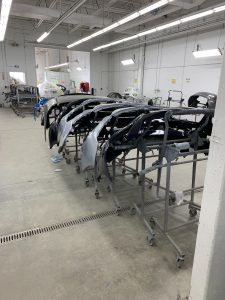 The auctions have been shut down, putting a hold on your inventory buying, but when they reopen in a few weeks or even a couple of months, your purchases will need reconditioning, and that will require new parts. The presumed recession that will follow Covid-19 will bring with it a reduction in new and used car sales. You don't want parts scarcity to further reduce profit on the vehicles that you do sell. Front line readiness will be where the margins are gained or lost.

What The Domestic OEMs Are Saying:
Ford
Ford announced that it would pause North American production after the Thursday evening shifts until March 30, but spokeswoman Kelli Felker told us Repairer Driven news, "Our parts depots will remain open."

Chrysler
FCA on Wednesday said it would close "starting progressively from today through the end of March," but spokeswoman Jodi Tinson on Thursday evening told Repairer Driven News in an email that parts distribution continued despite the shutdown to provide support for dealers and customers who rely on FCA for their repairs and maintenance.
"We are continuing to monitor the situation carefully and are taking all necessary precautions to safeguard the health and welfare of our workforce, including more frequent cleaning and disinfecting of all working areas," said Tinson last week.
Rumor has it this will not be the case for long.
The Detroit Free Press cited two unnamed sources who reported: "the UAW and General Motors, Ford Motor Co. and Fiat Chrysler Automobiles have agreed to shut down all U.S. parts distribution centers at the end of business Friday." The facilities would still operate with volunteer workers, according to the newspaper.
GM
GM communications senior manager James Cain said in a statement "while today will be our last day of normal operations for GM Customer Care and Aftersales, GM and the UAW have reached an agreement that will allow us to continue delivering service and repair parts to our dealers and customers, including the police agencies, fire departments and emergency service providers who rely on our vehicles all over the country. The service centers would be run by volunteers.
"These facilities will be staffed by hand-raisers," he wrote in an email. "We will be working through staffing and scheduling plans to resume operations on Monday."
Fiat-Chrysler
FCA issued the following statement:
Throughout this challenging period, FCA has been focused on enabling a stable supply of parts to our dealers to help keep our customers on the road. Be they first responders driving ambulances and fire trucks or commercial needs such as delivery and postal services, FCA and its dealers are working to keep all our customers operational. Following an agreement with the UAW, from Monday, March 23, FCA will begin operating our Mopar Parts Distribution Centers (PDC) using hourly-paid volunteers.
As with all our facilities, we have implemented an extensive program of cleaning and social distancing protocols across all our PDCs, and we will continue to operate with the safety of our employees as a priority. Further, for any employee volunteering to work at our PDCs, we will ensure they are all equipped with gloves and masks. FCA and the UAW are proud to continue supporting our customers when they need our help the most.
Tesla
Tesla announced it would cease production in a news release:
"As such, we have decided to temporarily suspend production at our factory in Fremont, from the end of day March 23, which will allow an orderly shutdown. Basic operations will continue in order to support our vehicle and energy service operations and charging infrastructure, as directed by the local, state, and federal authorities. Our factory in New York will temporarily suspend production as well, except for those parts and supplies necessary for service, infrastructure, and critical supply chains. Operations of our other facilities will continue, including Nevada and our service and Supercharging network."

What the Asian OEMs are saying:
As you can imagine, the Asian OEM's are suffering from production disruptions. Most have production facilities here in the US, but those are also shutting down.

Honda
Honda said it would stop manufacturing in North America from March 23-30, which would reduce projected production by 40,000 vehicles.
Honda spokesman Chris Martin wrote in an email, "at this time, Honda's six-day North American new-vehicle production suspension is not expected to affect the availability of Acura or Honda Genuine Replacement Parts".
Hyundai
An employee at the Hyundai plant in Alabama tested positive for COVID-19, prompting an immediate shutdown. Hyundai said it would reopen when it was deemed safe.
"Currently, the impact on parts availability is very minimal," Hyundai spokesman Michael Stewart wrote in an email. "We don't have a supply issue at this time with the exception of some select wire harnesses. There are no significant issues from suppliers from China and Korea either, and the China supply chain is recovering."
Kia
"No parts shortages are planned or seen at this time," corporate communications director James Bell wrote in an email.

Mazda
Mazda North America President Jeff Guyton asked, encouraged all employees to work from home through the rest of the month and suspended all business travel.
Any impact on manufacturing in the U.S. or abroad was unclear as Mazda has not put out a statement as of yet.

Mitsubishi
Mitsubishi North America CEO Fred Diaz on Thursday said all Mitsubishi "headquarters and regional team members" were working remotely."
Mitsubishi communications senior director Jeremy Barnes on Friday described efforts to keep replacement parts distribution centers safe.
"I can tell you that we are doing everything we can to keep our parts distribution centers open while ensuring the safety and well-being of our team members," Barnes wrote in an email. On a dealership basis, I cannot give you a blanket statement. In some states, all non-essential businesses have been closed. In some of those states, service facilities have been carved out as essential, but not in all. At this time, it's a moving target, and we – like everyone else in the industry – are working closely with state and local officials to ensure we're doing what we can to protect everyone, while still providing the crucial service and support our customers need in these uncertain times."

Nissan
Nissan announced it would suspend U.S. production March 20-April 6. "Areas deemed business-essential will operate with enhanced safety measures.".
Spokeswoman Lloryn Love-Carter confirmed that parts were considered "business-essential."
"Our parts distribution centers continue to operate as they are deemed business-essential functions," she wrote in an email.

Toyota
Toyota said it would stop production in North American March 23-24. On Thursday, it said it wouldn't restart production until April 6.
In their news release, Toyota stated: "Our service parts depots and vehicle logistics centers will continue to operate."
Toyota spokesman Victor Vanov sent an email stating, "at this time, we have ample supply of replacement parts available in our pipeline to meet customer needs, and we do not anticipate any impact due to the temporary production halt at our North American facilities."
Subaru
Subaru issued a statement saying it would close its Indiana plant for a week: "To further ensure the health and safety of associates and to adjust the volume for market demand as a result of COVID-19, Subaru of Indiana Automotive (SIA) is suspending production, March 23-29. All associates will receive full pay during the one-week shutdown."
Subaru of Indiana communications and external relations manager Craig Koven wrote in an email, "as it relates to the availability of replacement parts, we do not expect the one-week shutdown to have a significant impact."

European OEMs:
Audi
Audi on Thursday said it would shutter its plants in "Ingolstadt, Neckarsulm, Belgium, Mexico, and Hungary in a controlled manner by the end of this week."
Audi has yet to issue a statement about its U.S. operations or the status of replacement parts.
BMW
BMW corporate communications manager Phil DiInnani wrote in an email that their Spartanburg, S.C. factory remains in operation.
"As of this morning, Plant Spartanburg continues to be operational, we will keep you updated on any new developments."

Land Rover Jaguar
Jaguar Land Rover said in a news release that it would cease production "over the course of next week" in the United Kingdom.
"The company's intention is to resume in the week of 20 April, subject to review of the rapidly-changing circumstances. Currently, Jaguar Land Rover's manufacturing plants in Brazil and India continue operating. The company's joint venture plant in China reopened in the week of 24 February, as life begins to get back to normal in the country."

Mercedes Benz
Mercedes parent company Daimler on Tuesday said it would "suspend the majority of its production in Europe, as well as work in selected administrative departments, for an initial period of two weeks.
"This is a dynamic situation that continues to evolve, and we are closely monitoring developments together with our dealer partners to ensure we are supporting our customers in a safe and responsible manner," Mercedes said in a statement Wednesday when asked about parts. "In light of this, we will continue to make adjustments to our operations and communicate any relevant changes as needed."
Porsche
Porsche issued a news release saying it would stop production for at least two weeks.
"As from the coming week, Porsche will suspend production for an initial period of two weeks," By taking this step, the sports car manufacturer is responding to the significant acceleration in the rate of infection caused by the coronavirus and the resultant measures implemented by the relevant authorities.
"In addition to the primary protection of the workforce, bottlenecks in global supply chains no longer allow orderly production. At the same time, Porsche is preparing for a decline in demand and securing its financial strength with the decisions made. The parent plant in Zuffenhausen and the production location in Leipzig will be closed from Saturday (21 March 2020). These steps have been taken as part of an orderly process and in close cooperation with the works council."

Volkswagen
Volkswagen announced that it would shut down its Chattanooga, Tenn., plant for a week.
"Effective Saturday, March 21 at 3:45 a.m., Volkswagen Chattanooga will suspend production for one week, with current plans to resume production Sunday, March 29 at 10 p.m. This action is being taken to help ensure the health and safety of our team members as we conduct additional sanitation and cleaning procedures throughout the factory. We will also use this time to assess future production plans and market developments."
The Volkswagen Group said it would shut down Volkswagen Passenger Cars plants even longer in Europe.
"Initially, production facilities in Wolfsburg, Emden, Dresden, Osnabrück, Zwickau, Bratislava (Slovakia), Pamplona (Spain) and Palmela (Portugal) are affected, as well as the Components plants at Brunswick, Chemnitz, Hanover, Kassel, Salzgitter and SITECH."
"The Volkswagen Passenger Cars brand is gradually suspending production at its European plants. This will also affect the Volkswagen Group Components plants. This is the brand's response to the impending rapid decline in demand on the automotive markets. Risks in connection with suppliers' supply chains are also increasing. This is due to the significantly accelerated rate of infection by coronavirus and the resulting measures taken by the authorities. Initially, the factories are therefore expected to remain closed for two weeks. For the affected German sites, the measures are to apply from the end of the late shift on Thursday."
Works Council Chairman Bernd Osterloh noted in a statement that "Volkswagen has supply problems."

Volvo
Volvo said it would shut down U.S. manufacturing in South Carolina as well as operations in Europe.
"The Belgium plant will remain closed until April 5," Volvo wrote in an email. "The Swedish and US plants will be closed between March 26 and April 14.
"People working in our offices will generally work from home as of March 26, and the working hours will be reduced," Volvo said these offices were in Sweden and Belgium.
Volvo has not as yet issued any statement about parts supply or supply chain issues except to note that Chinese manufacturing had reopened.
"Earlier this month, Volvo Cars reopened its four manufacturing plants in China after an extended closure period," Volvo wrote. "Today´s showroom traffic is indicating a return to normal in China's car market, which is clearly demonstrating the advantages of being a globally balanced company."

So, as you can see, the ability to get replacement parts is uncertain, with some brands such as Volkswagen having more problems than others with production and parts supply. Use this information when your auction activity resumes.