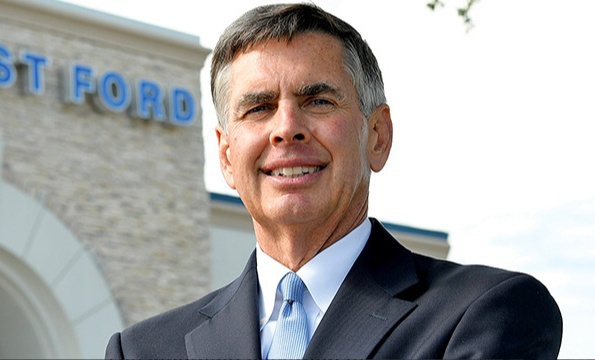 According to NADA News, the new NADA Chairman, Charlie Gilchrist, strongly recommended that franchise-owned dealerships need to be active in NADA "now more than ever."
He continued on with his recent speech in San Francisco and said: "I want you to think of your association as your second identity. It's always a part of you, and it's always there. That's a big deal, whether you've been working in this industry for decades or you're just getting started."
President of Gilchrest Automotive, Charlie Gilchrist, has franchises including Ram, Nissan, Ford, Volkswagen, Buick, GMC, Chevrolet, Jeep, Dodge, and Chrysler all in the DFW area of Texas. His obvious success quickly reminded everyone in the Moscone Center that being a franchise owner is the best way in the world to distribute vehicles. However, he also discussed some of the major challenges dealerships of all sizes are familiar with and will have to prepare for down the line.
"My challenge to each of you today is to get involved," Gilchrist said. "You are not just 'a member' of NADA. You are NADA." He then followed up with: "Profitability in our new-vehicle department is a serious issue. This means we have to be better, and more creative, at running the rest of the store. We must adapt to this reality to survive in this new world."
Beyond that, according to NADA News, Gilchrist urged the entire auto industry to unite together to help tackle the issue of technician shortages in the retail sector by supporting the NADA Foundation Workforce Initiative.
With the shortage of technicians and the many challenges ahead for dealerships in 2019, software companies are working hard to help manage and automate the workflow of dealership operations. Among the leading products is ReconMonitor, a state of the art workflow automation software for auto recon, dealerships, and auto remarketing companies. ReconMonitor dealership software decreases reconditioning cycle time and increases your dealership's operational control and profitability.