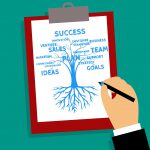 Team
Community
Competition
Vision
Whether you're own a dealership or an auto body repair shop, you want your business to be successful. Whether you're a regional MSO or a stand-alone shop, the following are key tips that have been proven successful for long-lasting businesses.
1) Employee Incentives
Let's face it: work can sometimes feel like more of a routine without any variety than a place we look forward to going to every day. When your technicians know they are given a bonus for their billed hours, it encourages them to keep working hard to earn that incentive. Perhaps there's a goal amount of collected money from your shop or a sales goal at your dealership. This would not only encourage your technicians but for the rest of your staff to work in unison to achieve that goal.

2) Get Involved With Your Community
Getting involved with your community shows that you actually care about people and not just making money. After all, without these same people, you wouldn't have a business. Perhaps do a back-to-school fundraiser where proceeds go to a family in need or a charity of the customer's choosing. The proceeds can be from repair service, car wash, or even purchasing a new car. It benefits the customer because of their vehicle need, it benefits you because you're making money, and it helps the community as a result.
3) Analyze The Competition
You can't own a business and assume that you're the best across the board. The trick here is to find something you have that your competitors don't. This is called competitive advantage. If you want your competitive advantage to stick, then make sure it's something that can't easily be replicated. An excellent way to determine why your customers choose your location over your competition is to simply ask them a brief set of questions. Understanding the source of your business is the first step in identifying opportunities. You can see what they prefer, where you're excelling, etc. Also, include an area that gives a place for customers to write any areas where they feel your business can improve.
4) Have A Clear Vision
A business without a vision is like a car without gas: it can't go anywhere. Having a clear vision for your business helps you focus on long-term goals. The trick here is those can only be met by successfully achieving your daily, weekly, monthly, etc. goals. Through attaining those goals and keeping focused on your vision, it inspires your team to achieve that vision.
Follow these four key tips, and you're sure to have a business that is built to last.